Analysis of Malaria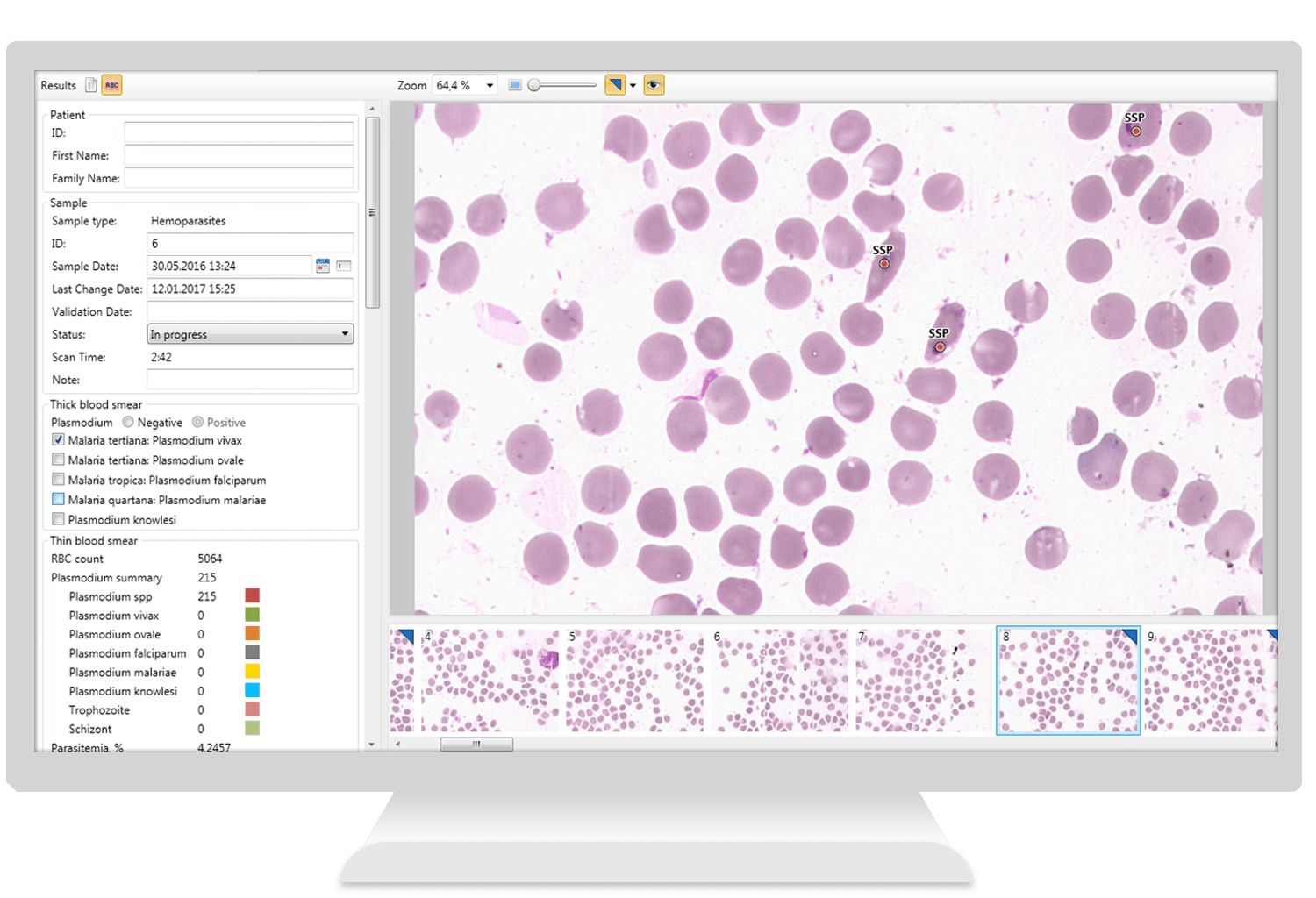 Description
The most reliable method of malaria diagnostic is the microscopic examination of a blood smear.
Vision Hema Malaria analyzer automatically scans a blood smear and helps specialists to identify plasmodia. The system scans both thick and thin smear and creates a gallery of images which can be reviewed by the user. With the selected number of plasmodium the system calculates parasitemia percentage. Using an embedded Jekel algorithm a specialist identifies the type of plasmodium.
Vision Hema Malaria helps to diagnose malaria in accordance with WHO standards.
Operation principle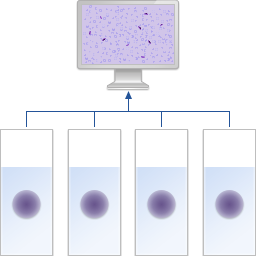 1. Screening — scanning of a thick smear. Automatic scanning of 100 fields of view. A specialist identifies the presence of plasmodium in a digital slide. If plasmodium is detected, then a thin smear is prepared and scanned.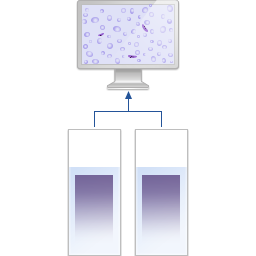 2. Scanning of a thin smear. The system automatically scans the slide and performs RBC calculation (up to 800 fields of view). The results are presented as fields of view gallery.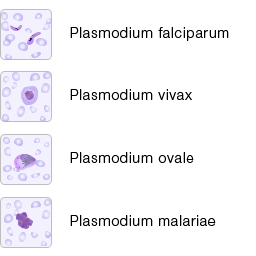 3. A specialist validates the type of plasmodium in accordance with counted RBCs. The embedded Jekel algorithm provides a standardized method for identifying the plasmodium type.

4. Automatic calculation of the parasitemia percentage. Parasitemia percentage is an indicator of parasites content in blood and it is an element to select the correct treatment.
Main advantages
Digital slide of thick smear
Digital slide of thin smear
Jekel algorithm
Parasitemia percentage calculation
Database for archiving
Remote access and network capabilities
Bidirectional LIS integration
Vision Hema Malaria
Watch the video
Download
Compare Vision Hema Malaria systems
Select a system optimal for your laboratory workload, be more efficient and save time.
Vision Hema Malaria Assist

Vision Hema Malaria 4Pro

Vision Hema Malaria 8Pro

Scanning of blood smears

Automatic scanning of thick and thin smears, automatic RBC calculation

Automatic scanning of thick and thin smears, automatic RBC calculation

Automatic scanning of thick and thin smears, automatic RBC calculation

Identification of plasmodium type

Embedded Jekel algorithm

Embedded Jekel algorithm

Embedded Jekel algorithm

Parasitemia percentage calculation

Automatically based on thin smear analysis, after the marking of parasites by the user

Automatically based on thin smear analysis, after the marking of parasites by the user

Automatically based on thin smear analysis, after the marking of parasites by the user

Number of simultaneously loaded slides

1 slide

Up to 4 slides

Up to 8 slides

Loading of slides

Manual

Manual

Tray loading

Integrated barcode reader

—

—

Optional

Immersion oil supply

Manual

Manual

Manual / automatic (optional)

Series of slide scanning

—

Without constant presence of an operator

Without constant presence of an operator

Connection to LIS

Bidirectional interface

Bidirectional interface

Bidirectional interface

Remote access

Optional

Optional

Optional
Characteristics
Vision Hema
Malaria Assist
Vision Hema
Malaria 4Pro
Vision Hema
Malaria 8Pro
Automatic scanning of a thick smear
•
•
•
Automatic scanning of a thin smear
•
•
•
RBC count
•
•
•
Embedded Jekel algorithm
•
•
•
Parasitemia percentage calculation
•
•
•
Loading 1 slide
•
•
•
Loading 4 slides simultaneously
•
•
Loading 8 slides simultaneously
•
Integrated barcode reader
•
Manual slide loading
•
•
Slide tray loading
•
Manual immersion oil supply
•
•
•
Automatic oil dispenser (Optional)
•
Scanning series of slides without constant presence of an operator
•
•
Connection to LIS
•
•
•
Remote access
•
•
•